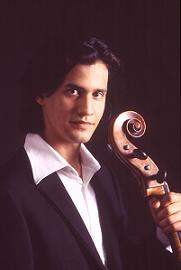 Concert Review:
Shenzhen SO/Ehwald/Bohorquez

July 24, Shenzhen Concert Hall
Wagner/Schumann/Brahms
I attended the middle of 3 consecutive
SZSO
Friday concerts in July by their wonderful director
Christian Ehwald
(
Biography
). Last year I heard him conduct one of the best Brahms 4th symphony I have ever heard (
review of that concert
), and so I eagerly looked forward to the
Brahms
3rd
this time. Again, Ehwald did not disappoint.
For this more lyrical and equally difficult symphony to bring off, Ehwald took a middle-of-the-road approach. With the well chosen tempi, the symphony unfolded in a relaxed manner and in patiently sculpted long lines that rarely buckled (no easy task in this symphony, and great strength of this conductor). Although not heart-on-sleeve, the performance did not lack in sweep when called for. Most impressive was Ehwald's patient but firm grip, allowing only true climaxes to ring out in full power, unlike many a lesser conductor (some we hear too often) who consistently over-drive music. Vitally, there was a rare refinement in the probing inner movements, reflective, serene and wistful by turns. Of course this could only be achieved with harmonious playing of the winds in solos and in unison. The remarkably beautiful blend achieved by the young wind players here is truly impressive. I am particularly captivated by the bold clarinet of 左丞 (studied in Germany), although the lead horn and 黃錚 are very good too.
The concert opened with
Wagner's

Meistersinger

Overture
, which also showcased Ehwald's ability to build a true climax. This was followed by
Schumann's
cello concerto
played by
Claudio Bohorquez
. The young German cellist has previously won the Casals Prize and even played on his cello for some years. I wonder why, as his playing was not at all emulative of the old master. Technically competent and with a moderately big tone, he could have made a bolder projection than he did, partly due to his vibrato control and preference for short and quick attacks. Sometimes I heard more notes than I usually do with this piece, which is to the good, but this came at the expense of ardor and momentum. The orchestra was reduced but played with great style and textural transparency. Ehwald maintained the momentum by carefully shaping dynamics. For once, the repeated string surges big and small sounded perfectly integrated. Again, the winds really shone in concertante passages and dialogue in the slow movement was simply breath-taking. Overall, only the deliberate nature of the cellist limited the scale of the performance. Still, it was no small achievement for this piece, which can sound episodic in lesser hands. Here, just the slow movement alone should have convinced one that this is a veritable masterpiece. Bohorquez played a slow movement of solo Bach for encore. His bowing seemed rather exaggerated and I found his concept really strange, distorted and almost vulgar. No, I did not enjoy it.
Bohorquez's official website
, where you can hear some of his playing for yourself.
Bohorquez plays Bach on youtube
, different movement and faster, and much better than the encore.