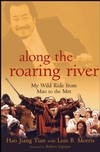 Along the Roaring River - My Wild Ride from Mao to the Met (Wiley 2008)


Book by

Tian Hao Jiang (田浩江)
Thanks to the recommendation of RC in the newsgroup
3music.classical
,
I picked up this book from the library. Aside from the time I had to put it aside to read another, more in-demand library book (中文解毒) , basically I read it straight through. As RC said, it's difficult to put it down.
Tian 田浩江
needs little introduction. I have heard him on the
Met
stage and he's professional. The website says very little but the first half of the book is filled to the brim with details of life in China, during the
Cultural Revolution
. Although Tian now visits and teaches in China regularly, it'd be difficult to foresee this book (2008) being translated into Chinese soon, given all its damning accounts of life in those troubled times. The second half details his odyssey in the West, filled with colorful vignettes of fellow singers (like
Domingo, Plishka
etc) and producers. For all Tian's perseverance and courage, I'd like to mention that the occasional assertion of being a (bass) trailblazer is not absolutely true. Before Tian, there was
斯義桂
, who preceded him by many decades and who had achieved a certain renown. That was a different age (much less dissemination of information), and a different China.
Although the library copy is sure nicer, you can read the whole book at
Google Books
. Click on the Wiley and Amazon links for some description and review of the book.
Highly recommended and a great read for the summer.