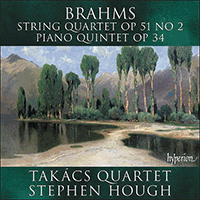 Listening Log 30/05/09: Mostly Disappointments
Good:
I have long been a fan of the original
Takacs Quartet
(on Hungaroton). Today it is international rather than Hungarian (on
Hyperion
) and it shows in the playing. While Edward Dusinberre is refined and the overall playing is still dynamic and spirited, the ensemble lacks weight and is less tonally blended than before.
Brahm's String Quartet No. 2
comes off better here. Although a little studied, it is fastidiously detailed, with moments of springing rhythm, almost enough to offset the smaller scale (I prefer bigger-boned Brahms). The
piano quintet
is a more curious affair. It is a widely dynamic reading that scrutinizes the dynamic markings. It is not a bad reading, but it lacks true passion (like the
Budapest/Serkin
on Columbia/Sony). As before, I am not enamored of
Stephen Hough
's Brahms playing, rather clanging in sound and lacking in tonal heft.
Boulez
and
VPO
in
Bruckner's Symphony No. 8
is certainly a curious affair. This recording has been widely hailed. I do like many details here and there, but overall I just don't receive the grandeur inherent in the Brucknerian ebb and flow. Most unfortunately, the sublime adagio is rather devoid of sentiment. I listened to the Japanese
DG
and sound is not great.
Fair:
Judged by this compilation of
Bach'
s own transcriptions and reconstructions, I don't understand why
Akademie fur Alte Musik
has made a reputation for themselves. The playing is excellent but rather metronomic. In these familiar works (albeit in other guises) this just doesn't work.
Even more curious is
Mahler Symphony No. 5
as played by the
San Francisco Symphony
under
Michael Tilson Thomas
(from live sessions). The SACD sound is excellent but I have to agree with some Amazon readers that the playing of the SFSO, although detailed and accurate, is not in the top echelon, nor for those used to more idomatic Mahler playing (like the Concertgebouw, even NYPO and CSO). MTT's conducting is rather free-wheeling, and there are passages that sound spontaneous and interesting. However, this is certainly not a coherent reading and much of Mahler's grandeur and nightmares are missing in equal measures. This is the first MTT Mahler I have listened to.