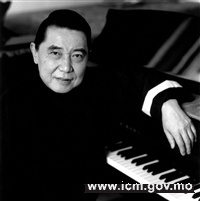 Concert Review: Macao Orchestra/Fou T'song/Lu Jia


February 6, Macao Cultural center, Grand Auditorium
傅聰的榮歸
Macao Orchestra/Fou T'song/Lu Jia
Mozart/Bruckner
Sometime ago when I found out about this program I was quite excited. A perfect excuse to go to Macau! Although curiously titled as
傅聰的榮歸
(Fou had appeared in Macau many times before) the main part of the program, and what attracted me, was the massive Bruckner 4th. Even though I have been a fan of Lu Jia ever since I first heard him I had question in my mind how the smaller Macao Orchestra would fare in this big work. Surely they had rarely played Bruckner.
Fou T'song
The first part of the concert,
Mozart's Piano Concerto No. 23
, was surely Fou T'song's glory. Personally, on record I have never been fond of Fou T'song. I had always thought his late recordings of Mozart and Chopin (as evidenced by the many CDs available in the library on small labels) severely mannered. It came as a wonderful surprise that in the concert hall his playing came across as more spontaneous than mannered. His frequent
rubati
mostly served the musical purpose of pointing. At 76, his dynamics were necessarily compromised but his fingers were remarkably nimble in the middle third of the piano, where most of the music is. Here, he produced beautifully varied tone even with spare pedaling. At either end of the keyboard his frailty showed. Notes were dropped, treble could be brittle and forced whereas bass was rather lacking. None of this detracted from his masterly treatment of the concerto, which came across not as something perfumed nor precious, but serene contemplation punctuated by bouts of drama. The reduced orchestra accompanied beautifully, as one expected of Lu Jia. Two Chopin encores were most delectable, indeed time-stoppingly beautiful.
It would be time for me to re-visit his discography, and I hope to catch one of his recitals soon. While researching his discography I came across some great youtubes clips:
Fou T'song teaching Chen Sa
PRECIOUS footage of Chopin Competition 1955 (where Fou came third, after Adam Harasewicz and Vladimir Ashkenazy)
Bruckner Symphony No. 4
(click on pic to enlarge)
And now for the main reason of my attendance. I was not sure at all what to expect. Although a fan of Lu Jia I had only heard him as a symphonic conductor in Dvorak. Although that was a perfect performance I did wonder how he, and the orchestra, would fare in the massive Bruckner 4th. I need not have worried.
By Bruckner's standard, the 4th is modest in its requirement of orchestral force. Even then, it's stretching the Macau Orchestra (I am sure its budget too) to its limits. I was told by a former HK Sinfonietta violinist this orchestra has fewer full time musician than most. Indeed for this performance, 23/71 musicians were guest musicians. The performance was a great success due to four main factors.
Firstly, the strings (14, 12, 10, 8, 6), though smaller than usual and comprising 16/50 guest musicians (some HKPO members), played magnificently. They played with uncommon accuracy; I have never heard the duplets and triplets of the so-called
Bruckner rhythm
executed with such clarity. And they were able to maintain beautiful tone and penetrate even in the most massive moments. Secondly, although the horn section was not as strong as HKPO's, the rest of the brass was superb and played with great radiance and attention to dynamics. Thirdly, there were some characterful wind playing. I am happy to note that Huang Zheng (after a stint with the SZO, which is incidentally mysteriously inactive at this moment) is now principal oboist. Also present was flutist Micheal Hallit, who previously played with the HKPO and whose playing I have greatly enjoyed. Together with acting principal Jin Ta the Flute pair was formidable.
Lastly, and most importantly, Lu Jia held a tight rein over the proceedings. Although a little more mystery would have been welcome, the symphony unfolded beautifully, with coherence and inevitability. Most impressive was the breath of the last movement, which can easily sound disjointed in lesser hands. Beside the architectural grasp, Lu Jia also brought out much beauty of details. Have you ever noticed Lu Jia always coaxed beautiful string tones out of the orchestra? Ovation at the end was tumultuous. Yes, I yelled "Bravo!"
The hall also helped. From my mid-stall seat the sound was luminous and detailed. One interesting observation: the orchestra sat quite into the stage (click on pic above to see). I'm sure this was deliberate for reasons of balance.
p.s. (thanks to RC ) The concert was briefly reviewed (starting around 42:40, emphasizing Fou and little on Bruckner) by Oliver Chou in this episode of
RTHK
4-Cultural Vibes 創意空間
.
Enjoy!