Listening Log 08/04/09: Mostly Fiddlers
(but pianists take the palm)
Excellent:
Alexis Weissenberg
's rather objective style turns off a lot of people but always had structural integrity. In the case of
Chopin
's minor
piano works with orchestra
, his playing enhanced the works. The French Orchestra play well under
Skrowazewski
(
EMI
LP).
The redoubtable
Radu Lupu
plays a well-nigh perfect
Beethoven 3rd
, and the
Bucharest SO under Conta
provide first-rate accompaniment. More impestuous and to be preferred to his Decca remake. Unfortunately it's oop (Quitessence LP).
I am not sure I should put
Alexander Paley
's performance of the
Goldberg Variations
here. This is not for the faint of heart. The performance is on 2 CDs and lasts almost 2 hrs. The reason is he takes ALL repeats and adds ornamentations. Not only that, you have to put up with occasional funereal processions too. I like some of it and find others rather strange but it is without doubt different and the Russian pianist (depsite his name) has what it takes! The playing is stylish and his touch is beautiful. I shall be returning to this. Who knows, maybe I shall put it under "intolerable" next time? But returning I am sure. The record label
BLUTHNER
(paino maker) is new to me.
Very Good
: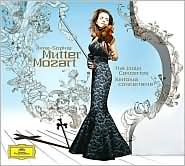 Mutter
surprised me in her
DG
integral
Mozart Concertos
. Relatively free of mannerism and just a little concession to period practice, the playing is miraculously detailed and tonally tightly focused yet imbued with some sense of spontaneity and surprising rhythmic elan. The
LPO
, although just a backdrop in the absence of a conductor, play lively enough. Although missing the last degree of give-and-take apparent in the other DG Carmignola/Abbado set, this set is nonetheless one of the best late efforts of Mutter.
She surpises sometimes, like in the very broad and romantic slow movement of the

Sinfonia Concertante

with Bashmet.
Good:
Aside from occasional mannerism in the last movement,
Inbal
's recording of
Schumann's 4th Symphony
with the
Frankfurt SO
(
DENON
; his first was on Philips) is tightly argued and in resplendent sound, as is the norm with this team.
Sarah Chang (EMI)
is all spontaneity in a lovely recording of
Mendelssohn's Violin Concerto
, partnered nobly by
BPO/Jansons
. The coupled live
Sibelius
though is a little lightweight for me.
Francois-Frederic Guy's Beethoven 4th concerto
(
NAIVE
) started off well but suffered from its smaller scale halfway on. In contrast, the more boldly projected (interpretively and sonically)
Piano Quintet
is quite satisfying, one of the better versions. The
Radio Philharmonic France
did well under
Philip Jourdan
.
Henryk Szeryng
and
Roberto Michelucci
both fiddled beautifully in Vivaldi's Four Seasons (both
PHILIPS
), in accounts that otherwise sound a little dated in the orchestral contribution.